Author of Forgotten Murders From Alaska's Capital, True Crime Walking Tour guide and co-founder of True Crime Alaska
A lifelong love of murder mysteries, interest in historical newspaper coverage, and the ability to operate a microfilm reader evolved into the ultimate retirement project: writing a book. My husband, Ed Schoenfeld, and I have spent countless hours poring over old newspapers and other records to develop an understanding of historic murder in our hometown of Juneau, Alaska.
Through this research, I found the people, places, and weapons of murder to be interesting, and the hows and whys of media coverage to be truly fascinating, providing a window into the past. We have used local, state, and national newspapers, court files, genealogical websites, cemetery records, census data, marriage and death certificates, and other sources to get the most complete picture of what occurred and how it was covered.
Forgotten Murders from Alaska's Capital is the first product of this research: Deep-dives into ten historic murders and their media coverage. Three chapters began as live presentations that Ed and I developed as very popular fundraisers for the Juneau-Douglas City Museum. Look at these stories through the lens of contemporary news coverage, census data, and local memories, and enjoy murder most foul in the isolated communities of historic Southeast Alaska.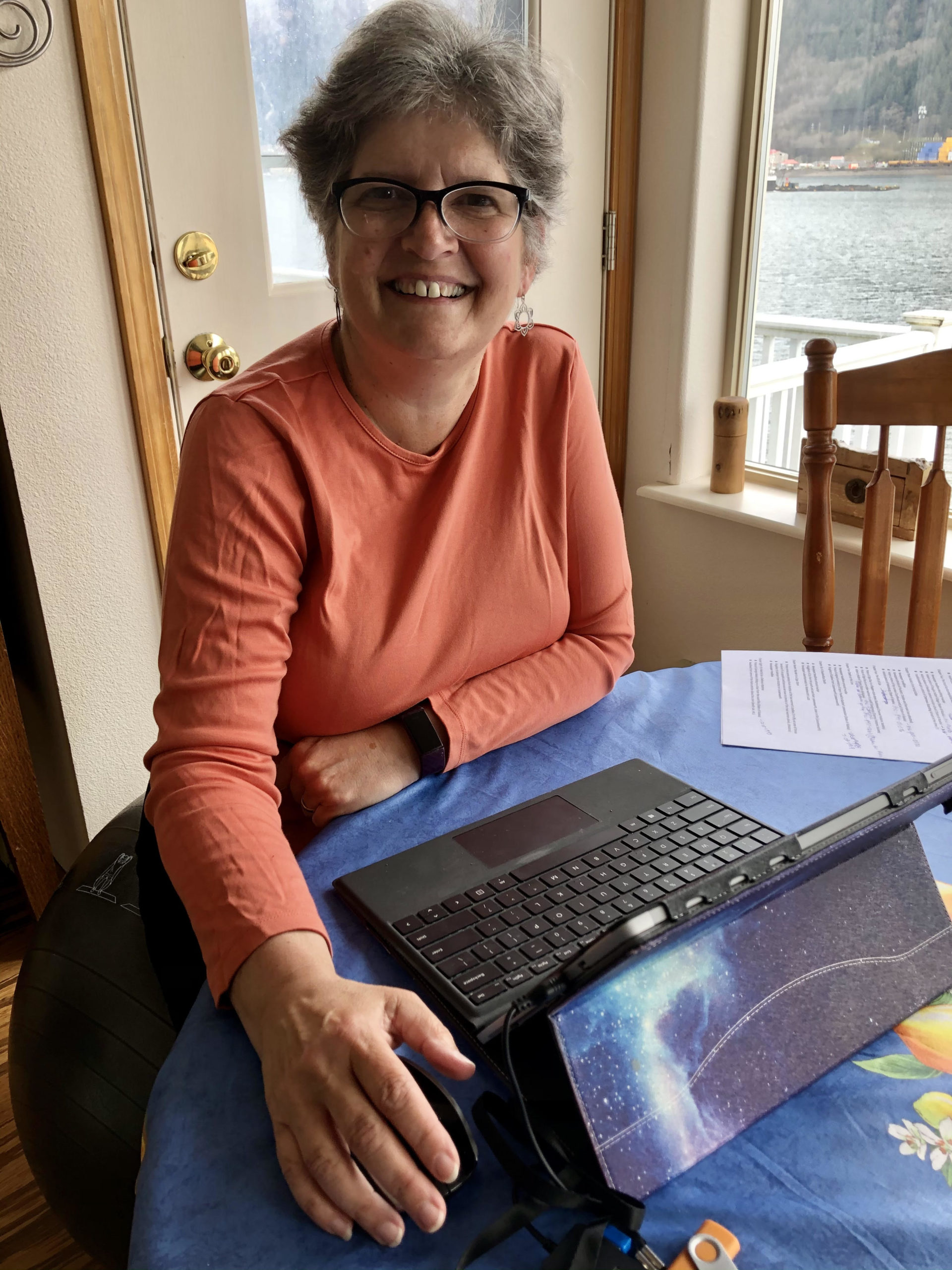 When I describe myself, I think first that I'm an Alaskan, then a former journalist, then a social worker, and now a grandmother (after first being a mother, coincidentally).
I came to Alaska in the 1960s, clinging to a loose tooth that I somehow associated with the Alaska State Marine Highway, called the ferry system, that brought my family to our new home of Sitka. Surely, this ferry would be directly connected to other fairies, such as those of the tooth variety. Instead, I was disillusioned when the tooth fairy apparently contracted with my Dad, who "snuck" the quarter under my pillow while I was actually lying on it (with my eyes open!).
After that rough introduction, I fell into what seems like years of reading books, eating M&Ms, and trying to dodge any household chores. These activities mostly took place in my bedroom, but occasionally branched out to the bunk on the boat that my Dad took out with the family at every opportunity (any weekend he wasn't on call as one of two surgeons in town).
Inspired by my aunt and uncle, who ran the Daily Sitka Sentinel newspaper, I went to journalism school in Oregon, returned to Alaska, and worked at daily papers in both Sitka and Juneau. I loved my job – talking to fascinating people, writing on deadline and even attending night meetings. It was all fun, interesting and I sometimes had a byline on the front page!
Life then happened – I met a cute reporter who was covering the same city council meeting in Juneau, fell in love, got married and had two little girls who finally turned me into something resembling an adult. I was a self-employed writer and non-profit administrator for most of the girls' childhood, then went back to school and earned my master's in social work, ending my professional life assisting families and active-duty members of the U.S. Coast Guard.
My retirement, thus far, has been lots of hikes with Ed and our dog, some kayaking when we feel hardy enough to put the kayak on top of the car, and researching historic murder. One of our daughters is a nurse director in Juneau; the other is a corporate manager who lives with her husband and two sons in Minnesota, so we travel there frequently. We are blessed (a phrase that was used by "old people" when I was young, but has come to take on real meaning as I get older).
About the photo: As we shared our stories of Alaska murders, we discovered we had become a part of a huge community of researchers, writers, producers, and fans of true crime. We decided to attend the 2022 CrimeCon in Las Vegas, which attracted several thousand people, to see what we could learn. We picked up useful information and laughed at all the clever T-shirts. ("I'm Just Here For The Alibi" was a favorite.) But we realized most of the energy was focused on contemporary and recent cases, with lots of blood, guts and drama. Our focus on historic crimes is different, though there are similarities.
"A lifelong love of murder mysteries, interest in historical newspaper coverage, and the ability to operate a microfilm reader have evolved into the ultimate retirement project for me: writing a book."